**WESTERN NEW YORK SEVERE WEATHER ALERTS**
SNOWFALL TOTALS
ALLEGANY COUNTY... RUSHFORD 1.2 630 AM 11/19 COOP OBSERVER ...CATTARAUGUS COUNTY... LITTLE VALLEY 1.5 700 AM 11/19 COOP OBSERVER 5 N ALLEGANY 1.4 700 AM 11/19 COCORAHS ...CHAUTAUQUA COUNTY... 1 S DUNKIRK 18.7 1218 AM 11/19 COOP OBSERVER DUNKIRK 13.0 600 AM 11/19 TRAINED SPOTTER FREDONIA 13.0 800 AM 11/19 EMERGENCY MNGR 1 WNW FREDONIA 9.1 700 AM 11/19 COCORAHS 4 SSW RIPLEY 4.1 700 AM 11/19 COCORAHS 3 SSE FREWSBURG 2.5 700 AM 11/19 COCORAHS JAMESTOWN 1.2 700 AM 11/19 COOP OBSERVER ...ERIE COUNTY... 4 S CHEEKTOWAGA 65.0 1004 AM 11/19 ESTIMATED LANCASTER 63.0 944 AM 11/19 NWS EMPLOYEE GARDENVILLE 60.0 800 PM 11/18 TRAINED SPOTTER WEST SENECA 57.0 800 PM 11/18 TRAINED SPOTTER 2 W WEST SENECA 51.0 700 AM 11/19 COCORAHS ELMA 51.0 800 PM 11/18 TRAINED SPOTTER ORCHARD PARK 48.0 800 PM 11/18 TRAINED SPOTTER WALES CENTER 48.0 946 AM 11/19 TRAINED SPOTTER 1 N HAMBURG 48.0 905 AM 11/19 NWS EMPLOYEE 4 SSE BUFFALO 45.0 700 AM 11/19 COCORAHS 2 SSW BLASDELL 44.0 700 AM 11/19 COCORAHS 4 NW ALDEN 44.0 700 AM 11/19 COCORAHS LACKAWANNA 42.0 900 AM 11/19 SOCIAL MEDIA 1 N LANCASTER 36.0 945 AM 11/19 TRAINED SPOTTER 2 N LANCASTER 25.0 1006 AM 11/19 NWS EMPLOYEE 2 S WALES CENTER 20.3 700 AM 11/19 COOP OBSERVER 1 W COLDEN 18.7 730 AM 11/19 COOP OBSERVER 2 S AKRON 17.5 700 AM 11/19 COCORAHS SLOAN 16.0 800 PM 11/18 TRAINED SPOTTER BOSTON 12.0 944 AM 11/19 TRAINED SPOTTER 2 NE BOSTON 10.0 700 AM 11/19 COCORAHS 2 SE GLENWOOD 8.3 700 AM 11/19 COCORAHS CLARENCE 7.0 944 AM 11/19 TRAINED SPOTTER NY BUFFALO INTL ARPT 6.2 650 AM 11/19 ASOS 4 NE BUFFALO 6.2 800 AM 11/19 COOP OBSERVER BUFFALO 6.0 945 AM 11/19 NORTHEAST SIDE 4 N BUFFALO 3.5 700 AM 11/19 COCORAHS KENMORE 3.0 800 PM 11/18 TRAINED SPOTTER 3 N CHEEKTOWAGA 2.0 1005 AM 11/19 SOCIAL MEDIA 7 N BUFFALO 1.5 700 AM 11/19 COCORAHS TONAWANDA 0.9 700 AM 11/19 COCORAHS EAST AMHERST 0.8 700 AM 11/19 COCORAHS ...GENESEE COUNTY... CORFU 40.0 800 PM 11/18 TRAINED SPOTTER DARIEN 36.0 830 PM 11/18 EMERGENCY MNGR STAFFORD 11.7 700 AM 11/19 NWS EMPLOYEE ...JEFFERSON COUNTY... PHILADELPHIA 22.0 1002 AM 11/19 SOCIAL MEDIA 3 S THERESA 16.0 700 AM 11/19 COCORAHS 5 SW CARTHAGE 13.5 700 AM 11/19 COCORAHS WATERTOWN 12.8 700 AM 11/19 COCORAHS 1 S WATERTOWN 8.0 1058 PM 11/18 COCORAHS ...LEWIS COUNTY... BEAVER FALLS 16.0 700 AM 11/19 COCORAHS HARRISVILLE 15.0 700 AM 11/19 COCORAHS LOWVILLE 12.0 700 AM 11/19 COOP OBSERVER 1 NW CONSTABLEVILLE 9.5 700 AM 11/19 COCORAHS HIGHMARKET 6.2 349 AM 11/19 COOP OBSERVER PORT LEYDEN 6.0 445 AM 11/19 TRAINED SPOTTER GLENFIELD 0.2 700 AM 11/19 COOP OBSERVER ...LIVINGSTON COUNTY... AVON 4.4 809 AM 11/19 COOP OBSERVER 4 WSW DANSVILLE 1.9 700 AM 11/19 COCORAHS 1 ENE DANSVILLE 0.3 700 AM 11/19 COCORAHS ...MONROE COUNTY... ROCHESTER INTL ARPT 3.1 650 AM 11/19 ASOS ...NIAGARA COUNTY... NIAGARA FALLS 1.6 700 AM 11/19 COOP OBSERVER 1 NNE NORTH TONAWAND 0.5 700 AM 11/19 COCORAHS ...ONTARIO COUNTY... 3 W GENEVA 1.3 700 AM 11/19 COOP OBSERVER ...OSWEGO COUNTY... 8 NNW REDFIELD 16.0 700 AM 11/19 COCORAHS 5 ESE OSWEGO 3.0 700 AM 11/19 COCORAHS BENNETTS BRIDGE 2.0 700 AM 11/19 COOP OBSERVER ...WYOMING COUNTY... 7 SW ATTICA 28.0 600 AM 11/19 COOP OBSERVER WYOMING 23.6 700 AM 11/19 COOP OBSERVER 6 SW WARSAW 10.0 700 AM 11/19 COOP OBSERVER 3 N SILVER SPRINGS 3.0 700 AM 11/19 COO 2.0 600 AM 11/20 AMATEUR RADIO
[10/10]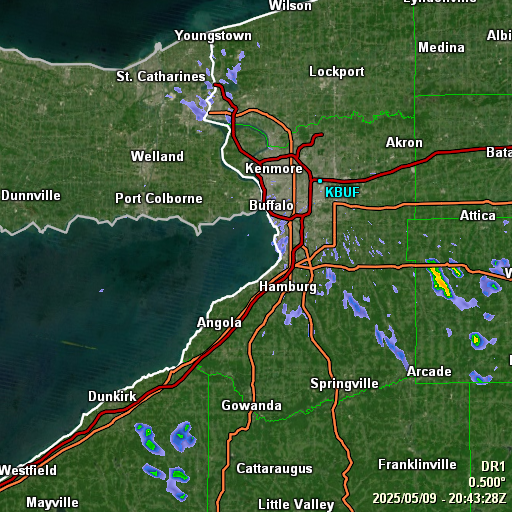 Updated:

@ 11:05am

Temperature
Current Conditions
Forecast / Storm Prediction

Currently Outside:



24.4°F



Wind Chill:

24.4°F




---



High Today


24.4°F


11:00 AM
Low Today


13.7°F


7:49 AM
Yest High


28.5°F


12:00 AM
Yest Low


19.0°F


11:58 PM
Sta* High


45.5°F


2013
Sta* Low


32.4°F


2013
* This Station's Records Since 2013
Rec* High


71.0°F


1913
Rec* Low


7.0°F


1880
West Seneca,Erie County,NY,United States

It is mostly clear




Wind:

W




0.0


Gusting to:


0 mph

Snow3:


1.75 in

Current CBI
Fire Danger:


-0.6

of 100

WeatherServer up for 1 Days 21 Hours 37 Minutes 38 Seconds


Today


Chance
Flurries
Hi

27 °F

Tonight


Chance
Flurries
Lo

20 °F

Saturday


Rain
Likely
Hi

41 °F

Dew Point
Liquid Precipitation
Wind
Sun/Moon

Dew Point:

18.2°F

In Last Hour:

0.7°F

High Dew
Point:

18.2°F


at 11:00 AM
Low Dew
Point:

10.8°F


at 7:49 AM
Record Dew
Point:

83.1°F


9-Jun-2014
Wetbulb:

22.6°F




Melt Today:

0.00 in

Yesterday:

0.00 in

Last 7 Days:

0.27 in

November Rain:

0.97 in

November Avg:

2.87 in

Diff from Avg:

-1.90 in

Rain Season:1

27.59 in

Last YTD Rain:1

55.06 in

Last Rain
Time/Date:
17/11/2014
at 6:02 PM
97 rain days in 2014
11 days in November
3 days since last rain

Currently:

W

at


0.0 mph

Gusting To:

0 mph

Max Gust:

0

@

2:40 AM

1Hr Average:
Calm
Month Gust:

22 mph

Nov 8
Year Gust:

55 mph

May 9

Record Gust:

55 mph




on 9-May-2014

Wind Run:

miles

Daylight:

9:32

-1:56
Min:Sec



1%


Illuminated

Humidity
Barometer

Humidity:

77

%
In Last Hour:
-4%
High
Today
92%
at 8:14 AM
Low
Today
75%
at 4:07 AM

Current:

30.285 inHg

In Last Hour:

Rising slowly

High
Today:

30.286 in.


at 10:46 AM

Low
Today:

29.930 in.


at 12:03 AM


Heating Degree Days
Snow3
Wind Chill
Lake temps

Today:
20.7
November:
561.2
2014 to Date:
5829.4
Cooling Degree Days
2014 to Date:
431.0

Today:

1.75 in

Yesterday:

13.50 in

November:

76.03 in

November Avg:

41.18 in

Diff from Avg:

34.85 in

Season Total:2

76.03 in

Snow Depth:

73.28 in

6 snow days in November
6 snow days this season.2
First Snow of Season:

Average 1st Snow:


Current:

24.4°F

Today:

13.7°F

at 7:49 AM

Yesterday:

19.0°F

Record:

-21.5°F


1-Jul-2014

44°
Lake Erie

45°
Lake Ontario


Buffalo
New york

Current UV Index
Solar Summary

0.0

Sunburn in

N/A

Minutes
Highest:
12:00 AM


0.0

Sunrise is at: 7:14 AM
Solar Noon: 12:00
Sunset is at: 4:46 PM

Almanac
Support this Site!
Station All Time Records
Cloud Level

| | |
| --- | --- |
| Currently: | Morning |
| YTD Avg Temp: | 47.8°F |
| Sunrise: | 7:14 AM |
| Sunset: | 4:46 PM |
| Moonrise: | 6:03 AM |
| Moonset: | 4:26 PM |
| Full Moon: | 6 November 2014 |
| New Moon: | 12:33 UTC 22 November 2014 |

Your donation helps support this site
Feels like:


63°F



24-hr
difference
6.1°F

HIGHS:
LOWS:

89.2°F


6-May-2015

-8.3°F


2-Dec-2014
Daytime Records

83.3°F


11 Sep 2013

-0.8°F


07 Jan 2014
Nitetime Records

80.6°F


11 Sep 2013

-1.3°F


04 Mar 2014
ICN:0 | S3C2:6
ISS:Ok | CON:4.7 | RCP:100%
1 Rain season: Jan 1st to Dec 31st. 2 Snow season July 1st to June 30th. 3 Snow manually measured usually around 7AM and 7PM. 6 Air Quality Index is provided by Minnesota Polution Control Agency and is updated hourly between the hours of 6AM and Midnight. 9 Solar Index represents either an absolute scale of solar energy (W/m²) using the station's recorded maximum or a percentage of computed theoretical solar maximum using the station's location and time of day. These indices differ most when the sun is low on the horizon. The current scale is shown, and will toggle if it or the icon is clicked.
NWS Weather Forecast - Outlook Today & Tonight
Today


Chance
Flurries
Hi

27 °F

NWS forecast: Scattered flurries. Mostly sunny, with a high near 27. West wind 5 to 10 mph.
Local station forecast:

Mostly clear with little temp. change.

Tonight


Chance
Flurries
Lo

20 °F

NWS forecast: Scattered flurries before 3am. Partly cloudy, with a low around 20. Southwest wind 9 to 15 mph.
NWS Short Term Weather Forecast
Saturday


Rain
Likely
Hi

41 °F

Saturday
Night

Rain
Likely
Lo

41 °F

Sunday


Chance
Rain
Hi

50 °F

Sunday
Night

Rain

Lo

48 °F

Monday


Rain
Likely
Hi

61 °F

Monday
Night

Showers
Likely
Lo

41 °F

Tuesday


Chance
Rain
Hi

43 °F
Version 6.81 20-MAR-2013 - Script Mods by: BurnsvilleWeatherLIVE.com