****This station is located in the French Quarter park**** include("nws-alerts.php");

Updated:

@ 3:15pm

Temperature
Current Conditions
Forecast/lake temperatures

Currently Outside:



51.0°F





Cool



High Today


51.5°F


2:32 PM
Low Today


35.8°F


5:12 AM
Yest High


43.9°F


12:33 PM
Yest Low


37.3°F


8:58 PM
Sta* High


59.0°F


2016
Sta* Low


10.6°F


2013
* This Station's Records Since 12/2012
Rec* High


70.0°F


1974
Rec* Low


-2.9°F


2003
Weather Server uptime 0 Days 6 Hours 59 Minutes 25 Seconds

This
Afternoon

Mostly Sunny

Tonight


Mostly Cloudy then Chance Rain Showers

Monday


Rain

Hi

52 °F

Lo

40 °F

Hi

44 °F


Click here for full Forecast
LAKE TEMPS: Lake Erie:46°F Lake Ontario:47°F

Dew Point
Liquid Precipitation
Wind Speed
Sun/Moon

Current:

35.4°F

Last Hour:

1.1°F

High 2:02 PM:

37.6°F

Low 12:00 AM:

25.8°F

Record High:

77.2°F on


19-Jul-2019
Record Low:

-6.5°F on


21-Jan-2019
Wetbulb:

44.4°F

Leaf Wet:7

0

Rain Today



Today:

0.00 in

Yesterday:

0.00 in

Last 7 Days:

0.71 in

Nov Rain:

1.79 in

Nov to Date
Avg:10

0.00 in

Nov to Date
Diff from Avg:10

1.79 in

Nov Avg:

3.03 in

Diff from Avg:

1.24 in

Season:1

37.35 in

YTD
Avg:11

23.45 in

YTD
Diff from Avg:11

13.90 in

Last Rain
Time/Date:
26-Nov-2020
at 7:17 PM
128 rain days in 2020
7 days in November
2 days since last rain

Current:

SW

4.0 mph

1Hr Average:

5.3 mph

Wind Run:

74.73 miles

Wind Gust
Current:

3.0 mph mph

Today:

19.6

mph

9:30 AM

Month:

42.0 mph

15-Nov
Year:

48.3 mph

12-Jan
Record Gust:

55.0 mph


28-Mar-2019

Sunlight:


9 hrs 48 min
58 sec
of Sunlight Today Which is
1 min 13 sec shorter than
yesterday


(Noon)

(Midnight)






Full Moon

100%


Illuminated

Humidity
Barometer

Current:

55

%
Last Hour:
2%
High 5:13 AM:
75%
Low 12:36 PM:
52%
Record High:
99%
23-Oct-2020
Record Low:
0%
12-Jan-2020

Current:

30.010 inHg

Last Hour:

Steady

High 2:30 AM:

30.108 in.

Low 2:52 PM:

30.006 in.

Record High:

30.894 inHg


17-Jan-2020
Record Low:

29.170 inHg


24-Feb-2019

Heating Degree Days
Snow3
Wind Chill
AIR

Today:
16.2
Nov:
614.3
2020 to Date:
5148.5
Cooling Degree Days
2020 to Date:
775.4

Today:

0.00 in

Yesterday:

0.00 in

Nov Snow:

0.00 in

Nov Avg:

11.10 in

Diff from Avg:

-11.10 in

Season Total:2

0.00 in

Snow Depth:

0.00 in

0 snow days in November
0 snow days this season.2
First Snow of Season:
--
Average 1st Snow:
06 of Dec

Current:

50.0°F

Low

6:10 AM

:

30.7°F

Yesterday:

30.9°F

Record:

-21.6°F


30-Jan-2019

Quality
Index6:
34


Density:
1.24 kg/m3

Current UV Index
Current Solar Energy9

0.0

Sunburn in

720

Minutes
Highest:
12:44 PM


1.8

193

W/m2


65

%
W/m2 ⇒ SI
High Today:
1:51 PM


455

W/m2
Record:
1288 W/m2

Soil Depth/Temp8
Irrigation Index5
Station All Time Records
Cloud Level

0.6 in:

46°F °F

1.2 in:

46°F


Growing conditions
at the depth of:

0.6 in:





Soil moisture range is from
0-Wet to 200-Dry/Frozen

Updated at Midnight
Current ET:

0.06 in

7-Days Rain:

0.71 in

7-Days ET:

0.16 in

7-Day:

0.553 in

November:

0.09 in

HIGHS:
LOWS:

96.6°F


10-Jul-2020

-2.7°F


30-Jan-2019
Daytime Records

95.4°F


09-Jul-2020

1.8°F


30-Jan-2019
Nitetime Records

79.7°F


10-Jul-2020

0.1°F


21-Jan-2019
ICN:5 | S3C2:1

| Ajax 3.xx


ISS:Ok | CON:4.7 | RCP:97%
1 Rain season: Jan 1st to Dec 31st. 2 Snow season July 1st to June 30th. 3 Snow manually measured usually around 7AM and 7PM. 4 Updated at Noon Central Time. 5 Estimated amount of water needed to replace the water used by plants and evaporation from the past week. (Negative numbers mean amount of water needed, positive numbers mean excess water is present). 6 Air Quality Index is provided by Minnesota Polution Control Agency and is updated hourly between the hours of 6AM and Midnight. 7 Leaf Wetness is surface moisture on foliage. 0 being totally dry and 15 being totally saturated. 8 Soil moisture and temperatures are from sensors burried in the ground at the levels specified. 9 Solar Index represents either an absolute scale of solar energy (W/m²) using the station's recorded maximum or a percentage of computed theoretical solar maximum using the station's location and time of day. These indices differ most when the sun is low on the horizon. The current scale is shown, and will toggle if it or the icon is clicked. 10 Historical average only to day 29 of just the month of November for this station since 2012. 11 Historical average rain this season to day 29 of November for this station since 2012.
NWS Weather Forecast - Outlook This Afternoon & Tonight
This
Afternoon

Mostly Sunny

Hi

52 °F

NWS forecast: Mostly sunny, with a high near 52. Southwest wind around 10 mph, with gusts as high as 23 mph.
Local station forecast:

Increasing clouds and warmer, precipitation possible within 12 to 24 hrs, windy.

Tonight


Mostly Cloudy then Chance Rain Showers

Lo

40 °F

NWS forecast: A chance of rain showers after 3am. Mostly cloudy, with a low around 40. South wind 3 to 9 mph. Chance of precipitation is 30%.
NWS Short Term Weather Forecast
Monday


Rain

Monday
Night

Rain Showers then Rain And Snow Showers

Tuesday


Rain And Snow Showers

Tuesday
Night

Rain And Snow Showers

Wednesday


Snow Showers

Wednesday
Night

Chance Rain And Snow Showers then Partly Cloudy

Thursday


Partly Sunny

Hi

44 °F

Lo

35 °F

Hi

40 °F

Lo

33 °F

Hi

38 °F

Lo

34 °F

Hi

40 °F
ajax-dashboard6.php - Version 6.95c - 19-Apr-2019 - Script by: Scott of BurnsvilleWeatherLIVE.com
Now supported by Saratoga-weather.org Download
[10/10]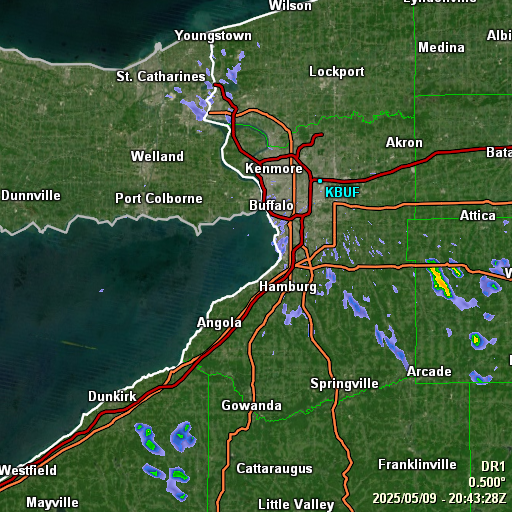 NEXRAD Radar KBUF status: Active [last data 0:05:41 h:m:s ago] as of 11/29/2020 3:18pm
Countdown to Winter
Winter Solstice begins December 21st at 5:02am

EDT



****24 hr Time lapse****