**WESTERN NEW YORK SEVERE WEATHER ALERTS**
[10/10]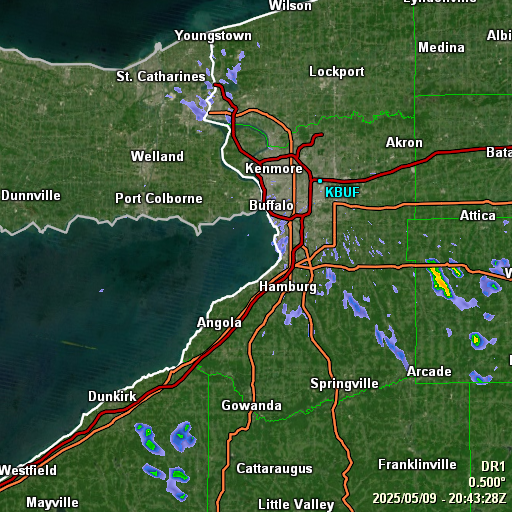 Updated:

@ 8:45pm

Temperature
Current Conditions
Forecast / Storm Prediction

Currently Outside:



31.7°F



Wind Chill:

31.7°F




---



High Today


37.8°F


5:55 PM
Low Today


23.3°F


4:57 AM
Yest High


44.6°F


12:00 AM
Yest Low


24.8°F


11:56 PM
Rec* High


82.0°F


2012
Rec* Low


20.0°F


1928
West Seneca,Erie County,NY,United States

It is Mostly cloudy




Wind:

NNW




0.0


Gusting to:


0 mph

Snow3:


0.00 in

Current CBI
Fire Danger:


2.1

of 100


Tonight


Partly
Cloudy
Lo

26 °F

Thursday


Mostly
Sunny
Hi

58 °F

Thursday
Night

Partly
Cloudy
Lo

37 °F

Dew Point
Liquid Precipitation
Wind
Sun/Moon

Dew Point:

22.7°F

In Last Hour:

2°F

High Dew
Point:

23.1°F


at 8:01 PM
Low Dew
Point:

12.7°F


at 4:32 AM
Record Dew
Point:

73.4°F


9-Nov-2013
Wetbulb:

28.7°F




Melt Today:

0.01 in

Yesterday:

0.31 in

Last 7 Days:

1.14 in

April Rain:

2.77 in

April Avg:

0.00 in

Diff from Avg:

2.77 in

Rain Season:1

8.22 in

Last YTD Rain:1

0.00 in

Last Rain
Time/Date:
16/04/2014
at 4:30 PM
26 rain days in 2014
8 days in April
0 day since last rain

Currently:

NNW

at


0.0 mph

Gusting To:

0 mph

Max Gust:

12

@

3:34 AM

1Hr Average:
Calm
Month Gust:

29 mph

Apr 5
Year Gust:

36 mph

Jan 6

Record Gust:

36 mph




on 6-Jan-2014

Wind Run:

miles

Daylight:

13:29

+2:46
Min:Sec



97%


Illuminated

Humidity
Barometer

Humidity:

69

%
In Last Hour:
+15%
High
Today
71%
at 2:33 AM
Low
Today
47%
at 5:55 PM

Current:

30.417 inHg

In Last Hour:

Rising slowly

High
Today:

30.422 in.


at 2:11 PM

Low
Today:

30.094 in.


at 12:01 AM


Heating Degree Days
Snow3
Wind Chill
Lake erie

Today:
33.7
April:
347.3
2014 to Date:
4164.7
Cooling Degree Days
2014 to Date:
0.0

Today:

0.00 in

Yesterday:

0.53 in

April:

0.53 in

April Avg:

0.55 in

Diff from Avg:

-0.02 in

Season Total:2

134.81 in

Snow Depth:

0.00 in

1 snow day in April
36 snow days this season.2
First Snow of Season:

Average 1st Snow:


Current:

31.7°F

Today:

16.4°F

at 1:17 AM

Yesterday:

16.5°F

Record:

-21.5°F


1-Jul-2014

32°
Fahrenheit


Buffalo
New york

UV Summary/Forecast
Solar Summary

High Today:

0.0 @ 12:00 AM

Apr-17

5.0
Apr-18

5.3
Apr-19

5.3

Sunrise is at: 6:30 AM
Solar Noon: 13:14
Sunset is at: 7:59 PM

Almanac
Support this Site!
Station All Time Records
Cloud Level

| | |
| --- | --- |
| Currently: | Evening |
| YTD Avg Temp: | 26.5°F |
| Sunrise: | 6:30 AM |
| Sunset: | 7:59 PM |
| Moonrise: | 9:47 PM |
| Moonset: | 7:58 AM |
| Full Moon: | 15 April 2014 |
| New Moon: | 06:15 UTC 29 April 2014 |

Your donation helps support this site
Feels like:


63°F



24-hr
difference
6.1°F

HIGHS:
LOWS:

87.1°F


9-Nov-2013

-8.3°F


2-Dec-2014
Daytime Records

83.3°F


11 Sep 2013

-0.8°F


07 Jan 2014
Nitetime Records

80.6°F


11 Sep 2013

-1.3°F


04 Mar 2014
ICN:4 | S3C2:1
ISS:Ok | CON:4.7 | RCP:100%
1 Rain season: Jan 1st to Dec 31st. 2 Snow season July 1st to June 30th. 3 Snow manually measured usually around 7AM and 7PM. 6 Air Quality Index is provided by Minnesota Polution Control Agency and is updated hourly between the hours of 6AM and Midnight.
NWS Weather Forecast - Outlook Tonight & Thursday
Tonight


Partly
Cloudy
Lo

26 °F

NWS forecast: Partly cloudy, with a low around 26. East wind around 8 mph.
Local station forecast:

Partly cloudy with little temp. change.

Thursday


Mostly
Sunny
Hi

58 °F

NWS forecast: Mostly sunny, with a high near 58. South wind 8 to 11 mph.
NWS Short Term Weather Forecast
Thursday
Night

Partly
Cloudy
Lo

37 °F

Friday


Chance
Showers
Hi

59 °F

Friday
Night

Showers
Likely
Lo

37 °F

Saturday


Chance
Showers
Hi

50 °F

Saturday
Night

Partly
Cloudy
Lo

35 °F

Sunday


Partly
Sunny
Hi

61 °F

Sunday
Night

Chance
Showers
Lo

45 °F
Version 6.81 20-MAR-2013 - Script Mods by: BurnsvilleWeatherLIVE.com